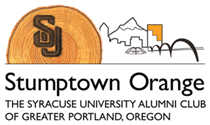 The perfect Orange holiday: Halloween!
October 28, 2010
(Click on any photo for a larger version)
Over 20 goblins descended on the Lucky Lab Beer Hall in northwest Portland on Oct. 28 to slash and gash their way through many pumpkins. Eight Stumptown Orange alumni joined in the fun.
Piles of pumpkins were turned into Jack O'lanterns as the revelers wielded their blades, scoops, markers and X-acto knives amidst pizza, sandwiches, brewskis and scary songs.
Among the Orange were (above right) Stumptown first-timer Carla Owen ('04) who chatted up Ron Mittelstaedt ('63) .
You don't have to be VPA grad to make a gorgeous gourd. But it sure didn't hurt (above left) Jessica Vasi ('96) who turned her pumpkin into a haunted house.
Anne Buckley ('95) (above right) transformed her pumpkin into a pussycat.

A special thanks goes out to Erika Kirkland ('05) (above left) for organizing the event for her pals as well as her fellow alums, including Carla.

Proving beyond a shadow of a doubt that he was NOT in VPA, PumpKen Kane ('75) (above right) stuck to carving simple block letters. But at least he gave it the ol' college try. So how was it that your childless club president was the only person to bring a kid to this family-friendly event? Never mind ... at least his escort for the evening, his pal Taylor Roghair, was equally adept at scarfing pizza and sclupting werewolves.

Allison Park ('04) joined Erika our Halloween Host. Apologies that the camera arrived after Kat Sampson ('06) and her pup left the premises.

Thanks to everyone who made it a howlin' good time!

Have a Happy

Orange Halloween!
---
Back to Stumptown Orange home page